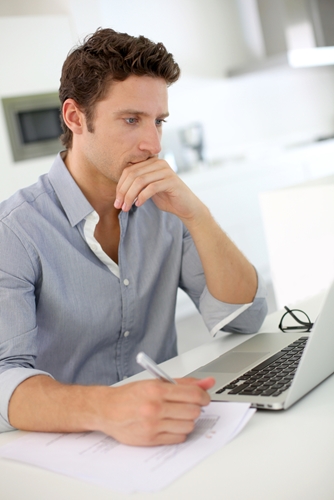 Times have changed in the enterprise. Today, going into the office isn't as necessary for those trying to get their work done. A number of factors, ranging from rising gas prices to seemingly worsening road and weather conditions have made staying home a much smarter option than going to the office. And, given advancements in telecommunications technology, it's easier now than ever to facilitate this practice.
Regardless of the size of your organization, it's essential for you to have the right tools in place to allow your employees the ability to work from home without impacting their workflow or communication. If your workers cannot get their work done or they are unable to keep in contact with the office throughout the day, a work-from-home policy will not succeed. But, with the right telecommunications solutions, such as an Allworx VoIP Premise based phone system or Hosted VoIP solution, you can benefit significantly from this strategy.
The employees aren't the only ones who can benefit from working from home. Here are a few ways in which a work-from-home strategy can help your organization.
Lower overhead costs – Having less people in the office means there is less electricity and water being used. Computers won't be left on all day and or night and even water consumption could be less. An emptier office ultimately is a cheaper office. In many cases allowing workers to telecommute means reducing office space and the substantial costs associated with leasing etc. Many employees are happy to use their home office for work purposes without reimbursement for the advantages and convenience of being able to work from home.
There are more resources to go around – Going hand-in-hand with overhead costs, the resources your company needs to operate are limited and the more people you have on the premises at once, the more you run the risk of running out. Office supplies can last longer if workers are staying home for a portion of the workweek. Conference rooms become more available, meaning it's easier to schedule meetings.
A quieter working environment could be more productive – The more people in the office, the greater the chances are that they'll interact with each other. While this is certainly fine in moderation, many employees have stated that they feel more productive when they have their own quiet space. When you don't have all of your workers in one place at one time you can give them the peace and space they need to be productive.
Of course, these benefits won't be realized if your company doesn't have the right equipment in place to implement a work-from-home strategy. If your company does have the right unified communications tools, it can maintain this policy without compromising workflow or collaboration.
Here are a few ways your technology can assist with this policy.
Video conferencing – There are now ways to bring a group of people together in a meeting, even if they are in different sections of the town, state, country or planet. Video conferencing can make it feel as if meeting participants are in the same room because they can see and interact with each other without having to make the trip to the office.
Call forwarding – Some providers may refer to this as "Find me Follow me" or "Presence". Even your small business VoIP provider can possess the ability to forward your calls to a personal device, whether that's a landline or mobile phone. Imagine your employee is expecting an important phone call from a client but can't make it to the office. Missing that critical phone call can mean the difference between winning that new business or losing it at times. Instead of missing the call your employee can forward the call to his or her personal phone and the client can still make that important connection.
Mobile Applications – Many employees are benefiting from the use of various mobile apps designed for use on Smart phones, iPad's or other tablet devices. Many will allow you to check your voice mail (without having to call back into the office), change phone settings. Others will even allow you to use your Smart phone just like your desk phone through the use of Softphone app's much like the Allworx Reach or Counterpath Xlite.
Cloud Computing – Being able to access critical business applications on the cloud from a variety of mobile devices and computers allows telecommuters the ability to be productive from home or even the coffee shop these days.
Easier connectivity with the home office – In the same way your employees can stay connected to their clients when they are home, they can do the same with those in the home office. Your telecommunications infrastructure can create an environment that fosters communication between different parties, which means your at-home personnel can still feel connected with their coworkers.