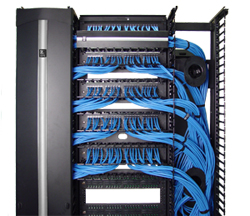 TSI offers structured cabling design & installation services…
Network cabling simply refers to the cabling system or wiring, (also known as CAT5, CAT6 and/or fiber optic cable) that is installed throughout your premise.
A well-designed and properly installed system of network cabling allows your computers and phone systems to be interconnected for maximum performance.
Patch cables connect stand-alone computers to wall outlets, while patch panels interface with network hardware such as Ethernet switches. Some of the components of a cabling system include patch panels for termination of cables in the phone room, server room, or closet; or network jacks for termination of cables at the station or phone/computer.
For housing and storage of network wiring systems, products such as cable troughs, wire ways, rack accessories, and cabling cabinets are also installed. These components protect the wiring and equipment from dust, dirt, water, and oil while simplifying cable management.
We design networks that adhere to current cabling standards, ensuring that your newly acquired products and services converge with already existing components.  Regardless if your cabling infrastructure is designed and installed from the ground up or is a retrofit for an existing facility, we will help you properly plan for future upgrading or expansion as your business needs change.
Network cabling relies on a variety of system components working in harmony. The weakest link in the cabling infrastructure or hardware represents its highest performance.  This means quality components and attention to detail are critical for a successful installation.  Upon completion we provide schematics for easy identification, and we will offer options for certification to assure you of the highest possible performance.
At TSI, we offer a wide range of network cabling products and services needed to design and build an infrastructure that will serve your strategic business needs. Call us today for a free assessment or quote.