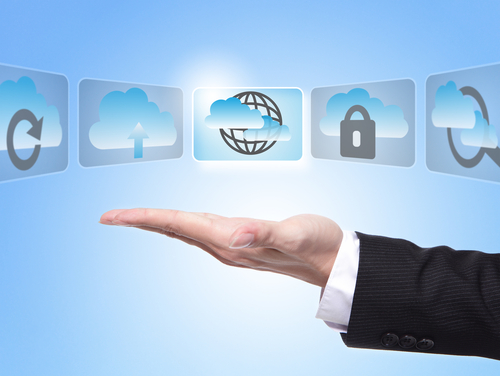 "The cloud," cloud computing, or cloud services refers to maintaining your data and voice software with off-site computers. "The cloud" might as well mean "someone else's computer."
The alternative, what many small and medium sized businesses still do today, is to host their applications on a server in a closet, under a desk, or in a "server room" at their business.
With cloud services, you don't have to host anything onsite. Ever.
And the cloud practically runs itself, so there's very little downtime or maintenance costs.
What are the various types of cloud services?
The most common models of Cloud computing are SaaS or "Software as a Service", PaaS or "Platform as a Service" and IaaS or "Infrastructure as a Service". Companies offer these services on public, private, and hybrid networks.
Instead of buying a computer or server, businesses and even individuals simply pay a monthly fee to access their applications without the costs of purchasing the hardware and, in many cases, software as well.
How do cloud services benefit my business?
Many of us already use cloud based services. If you are familiar with Amazon.com, Salesforce.com, Apple iCloud, Microsoft 365 or if you use Internet banking then you already use cloud services.
Many companies choose to "move to the cloud" or use "hosted providers" for a variety of reasons, including:
Lower Costs

No need to purchase, configure, and maintain servers.
Easier to budget the expense of IT/Data and voice services.
Save expenses associated with space, electricity, and upgrades.

Fewer Hassles

No need to maintain your own servers.
Software and hardware updates are performed behind the scenes.
Time savings allow you to focus on your core business instead of maintaining servers.

Improve accessibility

Connect to your data and voice applications from anywhere that has an Internet connection.
Use mobile phones and laptops instead of more expensive desktop PCs.
Easily "scale up" during periods of short term or exponential growth.

Peace of Mind

Eliminate the risk of server downtime.
Redundant servers, back-up power, and a secure environment that is monitored 24/7 by your service provider.
Telecom Solutions is a top cloud service provider to the Front Range region.
Whether you're looking for an effective email solution, back-up and storage of critical data, or for your employees to access data or communications across the country or globe, cloud services by Telecom Solutions Inc. may be the right fit for you. By evaluating your current environment we determine not only which cloud solution works best for your organization, but how to implement it and what potential component changes you may need to make to optimize the performance of your data management network.
For more information please contact us here.